This year, I got my first real tree in four years. We are staying here for the entire holiday this year ~YAY~ so The Boy and I went out one night, picked a tree, strapped it to the top of the car, brought it home, got it off the car and into the stand. I am very proud of us!

When the children were little and we lived int he Great White North, we went every year and cut our own tree. When I moved down here, I went fake...until the children broke the fake tree two years ago.

If this was the first year I got a real tree and the tree broke two years ago, what did we do last year?

Funny you should ask, because I found the following, from last year, still in draft mode in my list of posts. Apparently I never got around to posting it, so I will now...

From Christmas 2010:

I wasn't going to put up a tree this year. PERIOD.
Last year, I wanted to get a real tree for the first time since moving Below the Mason Dixon Line, but it kept snowing and sleeting and raining. The kids got impatient, so I set up our old artificial one. By the time we took it down, the kids had managed to somehow break the bottom branches. Okay, it was like 10 years old and a little rickety, but the kids did deal the final blow.
Since we are traveling for an entire week around Christmas this year AND it was the kids that broke the tree, I wasn't going to put one up. We certainly couldn't have a real one, being gone that long, and I wasn't going to pay full price for a new artificial one. Plus, the kids would have a tree at their dad's and there will be one at my parents'. I talked about this with the kids and they were on board.
Then my parents showed up for Thanksgiving. Somehow my mom, in all her infinite wisdom- thank you, Mom, for undermining my lesson-
*Yes, this is when she most makes me crazy- my house, my rules, but when she thinks it should be another way, she manipulates and then pretends she was really just concerned for our well-being. It makes me INSANE *mini vent over**
- while pumping the kids for the story of why we weren't getting a tree, instead of just asking me, planted the idea in the kids' heads that we weren't getting a tree because I couldn't afford one. Following their visit, the kids, who understood WHY we weren't getting a tree, suddenly needed one.
My solution: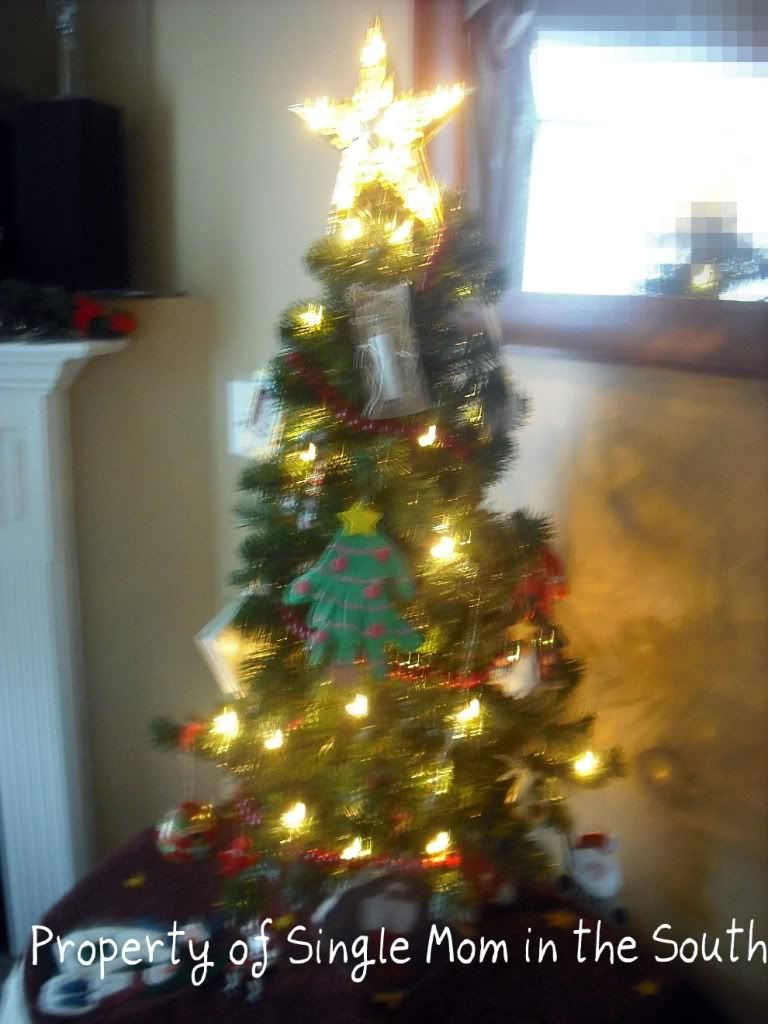 A Charlie Brown Christmas Tree!

Do you like how our star is almost bigger than the whole tree?
It's a 3-foot table top job from Target. Cost me $23. This I can live with. I think, now, we will use it every other year when we travel for the holiday!
***Please excuse the blurriness. I am not photographer, but I liked the way the lights looked in this photo over the other more clear ones, so y'all will just have to deal! ***