...was peach.
Yup, peach...
I HAD to be different.
I didn't want to wear BLACK to the Junior Prom,
so I wore peach...
*SIGH*
My date, a friend of mine, was only an inch taller than me,
so I had to wear flats.

Yes, flats.
The thing about going to high school at the same school your parents did is that they often know the parents of your classmates, like my parents and my date's parents did.
Your mothers will get on the phone and try to marry you off.
Then his mother will make him wear peach too~Thank goodness it was just the cummerbund, oh and the bow tie. That is a nice touch!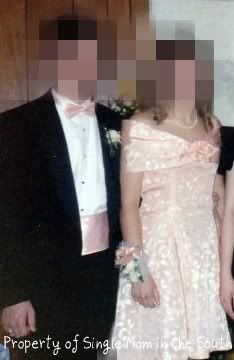 Junior Prom circa 1993
Do you like the rosette right at the center of my chest? That is a nice touch too.
Needless to say I got smart for Senior Prom, took a guy who was over 6 feet~my ex, actually~ and wore a timeless slim black floor-length sheath...
...with white straps and a bow on the back...
*SIGH*
At least they both still fit, right??? Actually, I think they might be too big...