It's Teacher Appreciation Week at school this week.
You know how I've been saying it's a rough year.
My bouquet on "Bring Your Teacher a Flower Day," while pretty, was not nearly as nice as last year's. I knew it wasn't just me!
*****
I forgot until I backed out of my driveway and saw my blooming bearded irises, which I then had to rip out of the mailbox garden so my children could bring their teachers flowers.
*****
I came home that day and my box containing these:
had arrived from
6pm.com
. Just about the only thing that would make a girl happier than coming home with flowers is coming home to cute new shoes!
*****
They also had "Bring Your Teacher a Healthy Snack Day" and I thought, What in the World??? I just want chocolate, so when a student came in baring Peanut M&M's, I was very happy.
Then a student came in with a pineapple and I was suddenly THRILLED...over a pineapple. Who knew?
*****
I can't handle doing a different thing every day. It's too much, so after the afforementioned flower incident, I just waited until the end of the week.
In my continued quest to actually DO the things I
PIN
, I sent in these for my children's teachers.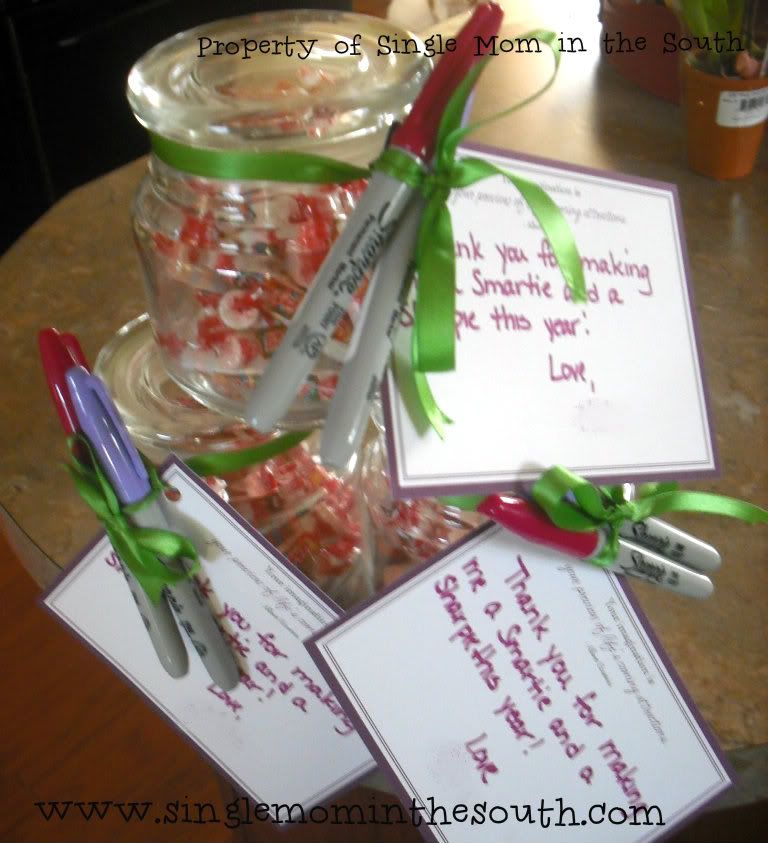 I got the idea here:
*****
Because they don't call it fragging for nothing, here's this week's random factiod:
I'm a green cleaner. I bought my house new and decided to start as I meant to go and I've never cleaned using commercial household cleaners. I use mostly vinegar and hot water with a paste of baking soda, dish soap and tea tree oil when needed. One thing it doesn't cover: soap scum... and my bathtubs, while clean, were starting to look...ummm... worse for the wear?
I found a solution: Used dryer sheets! Just dampen 'em and scrub! It's taking a little elbow grease, but once I get caught up, I imagine up keep will be a snap!
All in all, not a bad week, but BOY Howdy, am I glad it's Friday!