The children and I went on a very last minute trip to the beach this weekend. I didn't decide I wanted to go until last Monday and by the time I asked all my "contacts" their places were all unavailable ~ D'uh, Leigh, it's a holiday weekend!~ but then my cousin called to say his sister ~also my cousin, but in the name of keeping things straight~ was leaving early and we could stay in her place.

Then, it looked like the weekend was going to be a wash because of Beryl, but I decided that rain at the beach was better than rain at home, so we confirmed things Friday morning and on Saturday, we were off!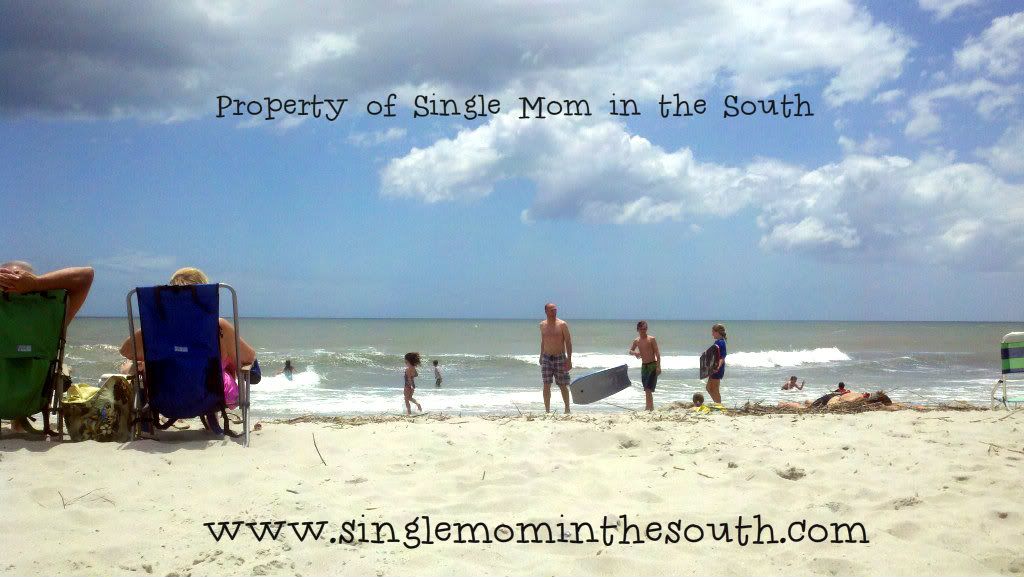 Sunday afternoon, we'd been cooking in the sand for quite some time ~good call on the weather, except for a ten-minute shower you can see moving in in the picture, the weather was BEAUTIFUL... we didn't even leave the beach for the rain~ and were watching an "airshow" by a fighter jet from a nearby base, when I turned around to see The Girl bounding up the beach along with...Evie! Honest to goodness, I had no idea my sister was there, let alone staying a block down on the same street.
Let me back up.
I did know Evie was going to the beach on a girls' weekend this weekend, but I never asked which beach...and the beach towns along our coast are small and close together, so there are quite a few to pick from. I spoke with my mom on the way down and she mentioned that she thought that was where Evie would be, but then she said Evie would be staying just south of the nearest city, so I figured Mom had her facts wrong.
Family
mis
communication at it's best. I probably would have been less surprised if I'd run into a student or friend... it just seems like if two sisters are vacationing at the same beach on the same weekend, they should know about it ahead of time!