My mother always gets me magazine subscriptions every year at Christmas time. I've never really asked for them and it's not technically part of my Christmas gifts.... it may have started that way 12 years ago when I was newly married, but now, she just renews them every year.
Because really, what better magazine is there for a sorta southern gal like yours truly to read to learn the ways of The South?
She won't get it for me because SHE doesn't like it, "I don't live in The South," she says, "It's worthless to me!"
Well, mom,
a) Actually you do for several months each year when you snowbird it in FL
b) I DO!
Last year she renewed my subscription to another cooking magazine and got me two new ones, nice magazines, but ones I won't really read and still no subscription to Southern Living...
Yes, I could get my own subscription, but that requires a level of organization of which I seem incapable, so I end up picking one up off the newsstand at the check aisle in the grocery store and LAWD that puppy is expensive when you pay the cover price!
Except here's the thing, I actually read it and USE it! That other cooking magazine, I DO love to flip through it and dog ear pages and enjoy looking at the recipes, but I never actually MAKE any of them. Not the case with Southern Living.
Here's an example,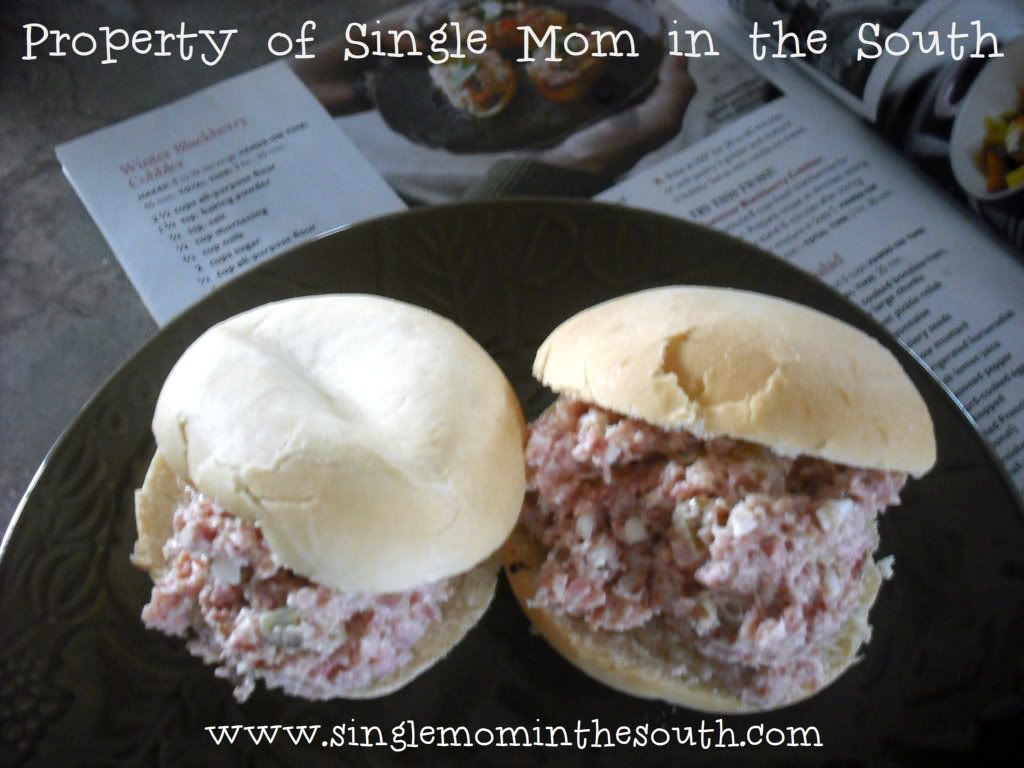 Ham Salad I made based on a recipe from the January 2012 issue of Southern Living. See it there under the plate?
Y'all, if you were my mother, wouldn't you rather spend you money on a gift I'll actually read, use, and enjoy? Even if you wouldn't do so yourself?
Right, that's what I thought!
Okay, I will stop whining and go read the new issue I just picked up and maybe this time I'll even get around to ordering my own subscription!
*winks*