Y'all, I love living Below the Mason Dixon Line in the summer!
I'm off from work.
The weather, pool AND ocean are warm.
The garden is plentiful.
*Knock on Wood*
after three years of trying, I have finally see to be keeping the squash bugs at bay long enough to get my plants to produce squash. It's taken spraying the leaves daily with a "sun tea" made of basil, sage and rosemary leaves and diligently removing any leaves on which eggs have been laid. LAWD 'A Mercy! We just don't have pesky critters like this in our gardens up north, although the ground hogs do make up for it!
For lunch this weekend, I had my first cucumber and tomato sandwich.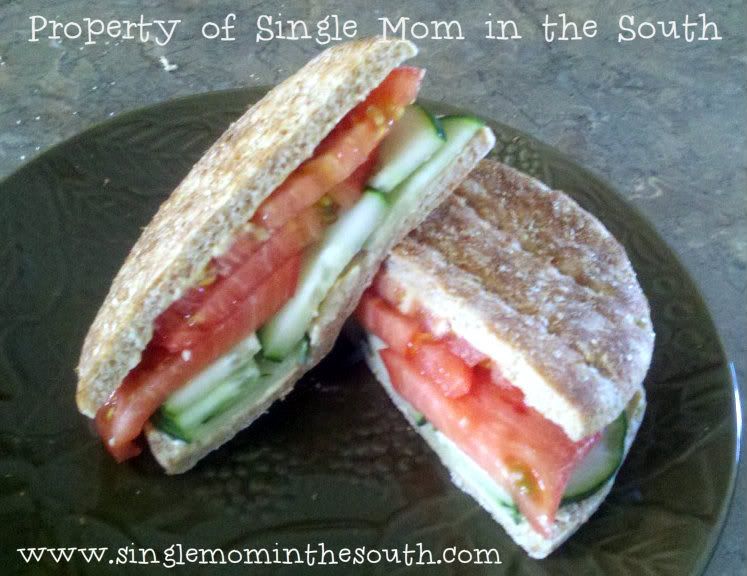 Heaven!!!!
Last week, I made this, using all vegetables and herbs from the garden!
Sorta Southern Single Mom's Summer Vegetable Pasta
1/2 lb penne
3/4 cup chicken broth
1 T olive oil
1 yellow squash, sliced and chopped
2 young carrots, sliced then chopped
2 baby leaks, diced
3 tbs mixed fresh herbs, minced ~ I used basil, sage, oregano and rosemary
salt a pepper to taste
In a large pot of salted, boiling water, cook pasta according to package directions. Meanwhile, In a large skillet, heat oil over medium heat. Add squash, carrots and leaks and saute until softened, about 5-7 minutes. Add 2 T of the herbs and stir to mix. Turn heat to medium high, add chicken broth to deglaze pan and cook down by half. Season to taste with salt and pepper. Drain pasta and add to skillet. Toss to coat and sprinkle with remaining herbs and little bit of Parmesan cheese if desired.
Here's the Glazed Carrots recipe...easy, but we are just not cooked carrot people!