Where I come from*, waffles are for breakfast and served with syrup or fruit or if we are being particularly decadent, ice cream or whipped cream, but chicken???
I think not!
The Girl is a huge waffle eater and Mamma is more of a Breakfast for Dinner kind of gal, because she just doesn't have the energy in the morning. But...
It's summer
I'm home
I was maybe feeling a little guilty.
When I made the grocery list, The Girl reminded me that I needed to get eggs so I could make waffles and I did. The Boy and I woke up the next morning and I looked at him over his bowl of Fruity Pebbles and said, "Your sister is going to want me to make waffles!"
I made a funny face.
He grinned.
Sure enough, The Girl bounded out, minutes later, asking, "Mamma, will you make us waffles? You promised!"
I told her she would have to wait because I was blogging.
Then I did... I made a whole batch. I put blueberries in two, but then I ran out, so the rest were plain. The children ate exactly two waffles...total.
I was standing in the kitchen, looking at the colossal mess I'd created for two waffles and I started thinking about dinner. I looked at the three plain waffles I had left and I thought of the whole chicken and waffles thing.
Sorta Southern Single Mom's Chicken and Waffles
Yield: 3 servings
1/2 cup vegetable oil
1 chicken breast, bone in**
1 egg
1 T Hot Sauce
3/4 cup all purpose flour
3/4 t baking powder
1 t Lawry's Seasoned Salt
1 t Poultry Seasoning
dash pepper
3 T butter
1 1/2 cups chicken broth
3 homemade waffles
pancake syrup
Heat the oil over medium heat using in a cast iron skillet ~ look at me, being so southern with my skillet!!!~ Cut skin from chicken breast and remove from bone. Separate tenderloin and cut the breast into 5 tenderloin shaped pieces. Mix egg and hot sauce in a bowl and add chicken pieces and stir to coat. In a resealable bag, combine flour, baking powder, Seasoned Salt, Poultry Seasoning and pepper. Set aside 3 T. Remove chicken from egg mixture and add to bag. Shake to coat. Fry pieces in hot oil until done.
Drain and discard oil and wipe skillet clean with a paper towel~ Be careful, it's hot! ~ Return skillet to heat and melt butter. Sprinkle reserved flour mixture over the butter, let set for a minute then whisk until golden brown. Add broth** whisking until smooth. Let thicken.
Microwave or toast waffles to reheat.
To assemble, place one waffle on each plate. Top with two chicken pieces. Pour gravy over the top and drizzle with pancake syrup.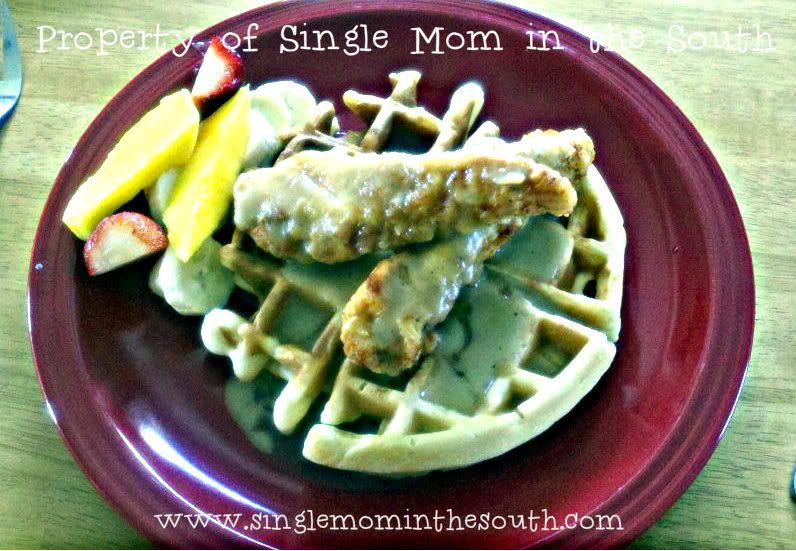 DELICIOUS!!!!
I might be making waffles more often! These were SO good!
* My word, I'm quoting lyrics to country songs!
**You can use boneless chicken, but bone-in is cheaper. Plus, if you don't have broth on hand, you can throw the bones in a pot of boiling water with a little Seasoned Salt and make your own while the chicken fries!
~Look at me being all thrifty!