The SITS #staycation continues today with East Coast Pictures. I gave you some on Wednesday, but today, here is one from a different part of the East Coast.
I mentioned that I didn't grow up near a beach. I grew up summering on lakes and rivers, just like this!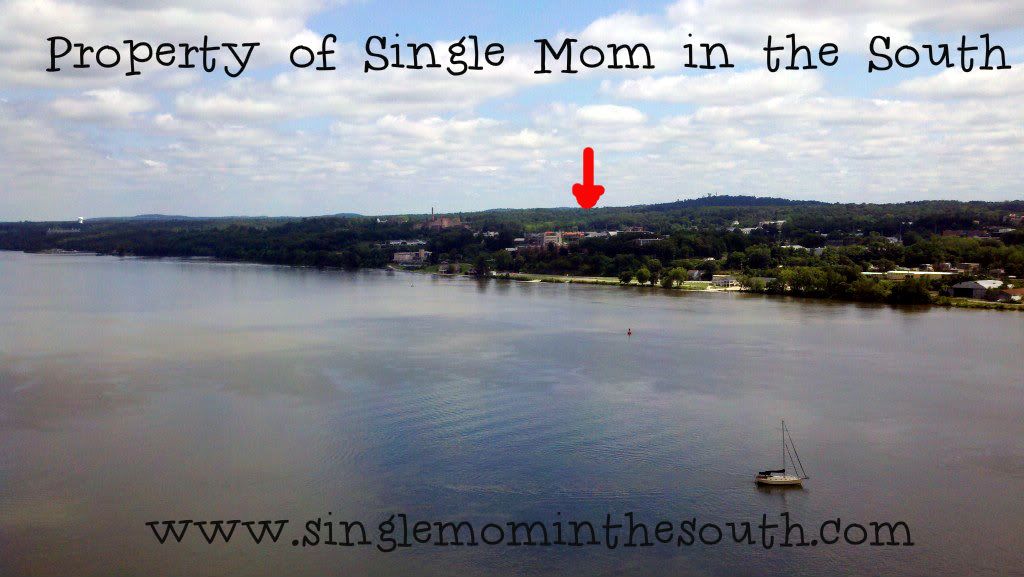 The red arrow points to where I went to college!
*****
I mentioned last week that I had bought myself The Pioneer Woman's newest cookbook. I made
Sesame Noodles
. What a HUGE hit! I added a shredded carrot to the pasta water as well as a cup of shelled edamame to make a complete meal. I omitted the chili oil and when I make it again, ~which I will~ I'll probably swap on of the tablespoons of toasted sesame oil for another tablespoon of vinegar, but the neither The Girl nor I could get enough! Like she says, there are spectacular cold too!
Last summer I was blogging about
why I started my blog
!
I'm always a little late to the game, but since hooking up my Roku, I've discovered
Pandora.
I'm having so much fun! I'd forgotten how much my taste in music has changed. Now I listen to mostly country, but I used to have much more eclectic taste. For example, I love Blink 182. I used to know that!
*****
I brought my car in for its complimentary oil change and because the check engine light was on. Six hundred dollars later I had a new fuel level sensor or some such business! I posted about remebering to be thankful thath I have a car even when faced with expensive and unespected repairs and a friend commented about how that was why she always found new cars in her price-range and only bought new. The way it was worded was really offensive and she deleted it almost immediately, but it still came through my email. I won't lie; I was insulted. As a single mom, it gets my goat when people who have access to two incomes make comments like that. I found what I needed for my family in my price range and I'll thank you not to criticize unless you've walked in my shoes. THANKYOUVERYMUCH!