Daddy got The Boy tickets to see his favorite NFL team, because after five years Below the Mason Dixon Line, our closest team was FINALLY playing his team on their home field. The two teams have faced each other at least the last two years, but always in The Great White North.
The only problem: It was on a weeknight ... 3 hours away.
I was supposed to secure a hotel room and even called on a fellow blogger who was kind enough to give me a whole list of area hotels. Alas ~you know, because I had nothing else on my plate~ I waited too long and everything was booked. This meant a 3 hour drive home at midnight when I was supposed to be working the next day.
Enter Lawn Boy to the rescue. First, he checked with The Boy to make sure it was okay to rain on his Alone Time with Mamma. The Boy didn't care if we brought a bus-full, as long as he got to go. LB secured a ticket to the sold-out game, in the general vicinity of our seats, and came with to help me with the driving. We left as early as humanly possible, but still sat in traffic 2 miles out for 45 minutes, listening to the game on the radio. When we got within walking distance and STILL couldn't find parking, LB pulled up to a curb.
"What are you doing?" I asked.
"Just go!" he said, "This is his night, he needs to see the game. I'll park and find you!"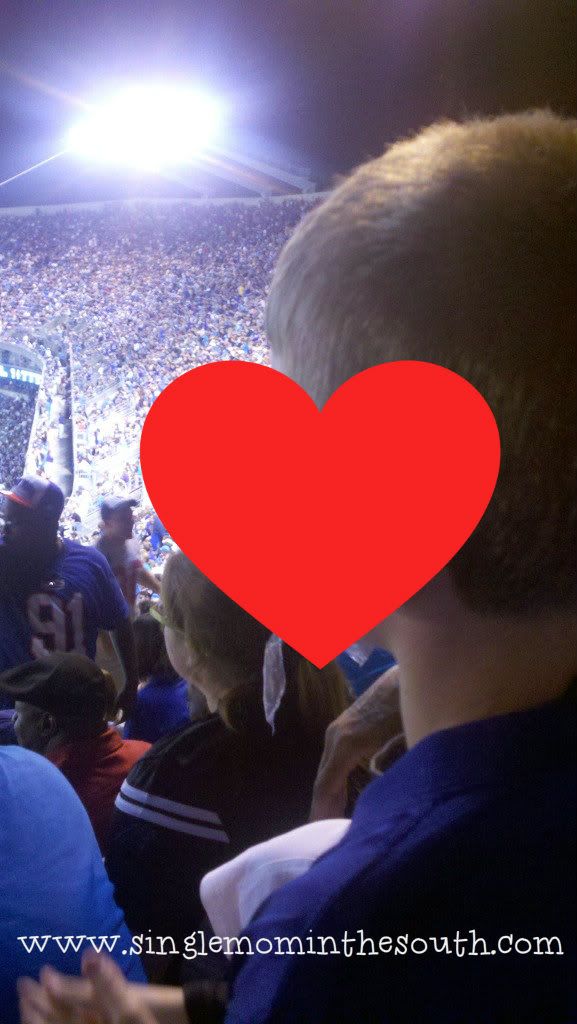 *BIG, HUGE, HONKING SIGH*
When I shared this with my mom, her exact words were, "Oh My Goodness, Leigh! He's SUCH a keeper!" ~Well, not the Leigh part, but the rest.
The Boy and I sprinted to our seats ~I may have been sniffling over the kindness of our chauffeur~ and I got to watch my boy watch HIS team TROUNCE their opponents.
My Boy got to cross something off his Bucket List and I got to be there to see it.
Once again, I am eternally grateful to the pack of special people, from my dad who bought the tickets, to LB, to the two friends that helped watch The Girl, who had no interest in going, for helping me help The Boy make his dream come true!