Thank you very much mom talking loudly on her cell phone in the middle of the game before my son's last weekend.
Thank you for helping me see why some children are the way they are.
When the score is 18-0 and your child's team is winning by at least 3 touchdowns, allowing the ~mostly 6 and 7-year old~ second string to get a little playing time and the other team scores, it's okay. You do not need to talk LOUDLY on your cell phone, in the stands, surrounded by the parents of these children about how they are "ruining all the hard work" your child did.
Because, you know what? They are SIX and SEVEN and in no danger of losing!
You know what else? The kids on the other team are also SIX and SEVEN and they are also playing in the rain and it would be nice if they got to put a few points on the board to lift their spirits.
I'm not going to say it's not about winning... I don't agree with the whole, "let's make 'em feel good and not keep score" mentality of many of today's youth sports programs. But your attitude, quite frankly sucks. It is an immaculate display of poor sportsmanship! People like you, who are raising their children with an elitist and entitled attitude... you make my day-job harder!
Thank you very much football mom, for giving me the opportunity to teach my daughter, who was sitting there listening to you, how NOT to act. You certainly set an example for her... and example of what NOT to be!
*vent over*
I feel better now, because while I would NEVER confront someone in real life, I obviously have no problem calling them out on my anonymous blog! *grins*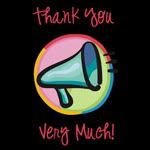 Linking up today with KMama at The Daily Dribbles for TYVM (Thank You Very Much)? It's her way of sarcastically thanking all the little things that have ticked her off. It serves as free therapy, and boy do I sometimes need some free therapy!