I love risotto. Love, Love, LOVE it and all of it's creamy goodness! When I first moved Below the Mason Dixon Line, I couldn't find arborio rice anywhere. I was crushed. Now it's more readily available. I won't lie, it's not a "Quick and Easy" meal. You have to stay with it, so I usually reserve it for weekends.
I also love butternut squash, but much to my dismay, I have not been able to successfully grow any kind of squash down here. Despite my best efforts, my squash plants always fall prey to squash bugs!
When a butternut squash turned up in our fundraiser box of produce, I knew I'd be making Butternut Squash Risotto as soon as the weekend came around!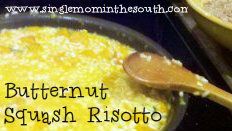 Sorta Southern Single Mom's Butternut Squash Risotto
2 t olive oil
salt an pepper
1 butternut squash
1 32 oz carton

chicken broth
4 cups water
5 Tbsp unsalted butter, divided into 4 Tbsp and 1 Tbsp
1 small onion, finely chopped
2 cups

arborio rice
1 cup dry white wine (such as Sauvignon Blanc)
1 cup freshly grated Parmesan cheese
2 Tbsp chopped fresh sage
Salt
Pepper
Prepare Squash
At least and hour before you are ready to make risotto, microwave squash for 5 minutes to soften slightly. Cut in half and scoop out seeds. Place cut-side up on a baking sheet. Brush with 2 t olive oil, sprinkle with salt and pepper. Roast in a 400 degree oven for 20-30 minutes. You don't want it to cook to mush, it should still be slightly firm. Cool. Remove skin and dice one half. Reserve the other for another use.
Make Risotto
Heat broth and water in medium sized saucepans and keep warm over low heat. Melt 4 Tbsp of butter in a large saucepan or skillet with sides; add onion. Cook over medium heat until onion is translucent, about 5 minutes. Add diced squash gently stir to combine. Add rice to onion and squash. Cook 1 to 2 minutes. Add wine. Cook, stirring constantly until wine has been absorbed by the rice or evaporated. Add a few ladles of broth, just enough to barely cover rice. Cook over medium heat until broth has been absorbed. Continue cooking and stirring rice, adding a little bit of broth at a time, cooking and stirring until it is absorbed. When broth is gone, use water, until the rice is tender, but still firm to the bite, about 15 to 20 minutes. During the last minutes of cooking, add remaining tablespoon of butter, 1/3 cup Parmesan, and sage. At this point the rice should have a creamy consistency. Add salt and pepper to taste. Serve with remaining grated Parmesan
***This makes a great non traditional side for Thanksgiving dinner if you are not a potato lover. I've also have a friend who is a vegetarian and she often contributes risotto to potlucks when meat is the main dish. Just substitute vegetable broth for the chicken broth!