I'm not crazy about fundraisers. They usually find us buying or trying to sell things we don't need. Plus, when most of one's family lives out of town, there aren't many to whom one can sell.
A flyer came home in the children's school folders indicating we were doing a fundraiser with a local produce company. I was thrilled, because I've wanted to use such a delivery service for some time, but I am just far enough out of the wrong side of the city, that none seem to come to my house.
For $25 a box would be delivered to the school for me. Turns out, as a teacher, they even brought it right to my door; Broccoli, lettuce, potatoes, tomatoes, apples, apple cider and a HUGE butternut squash!
On Thursday night when I got it, I made a half batch of cream of broccoli soup. Monday night I made macaroni and cheese with Muenster cheese and put the rest of the broccoli into it. Last night, I made roasted tomato sandwiches.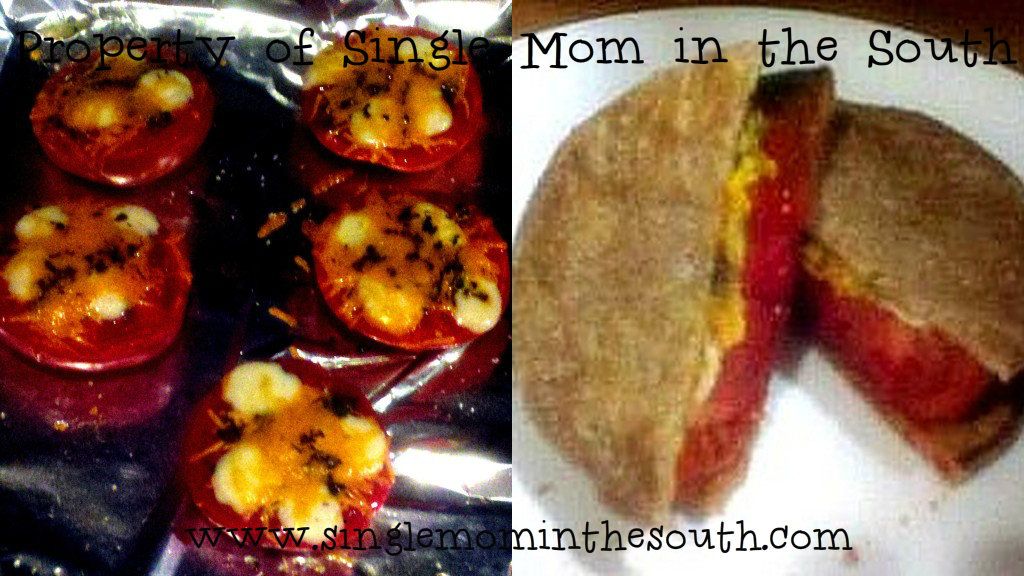 I'm thinking I'll pick up the makings for Cheeseburger Chowder, similar to this one from Mimi at Woven for Words for this weekend which will use up the potatoes.
Not a bad way to eat home-cooked and healthy AND support our school and local farmers! That's what I call a welcome fundraider!
Sorta Southern Single Mom's Roasted Tomato Sandwiches
2 tomatoes, halved horizontally
salt and pepper
1 mozzarella cheese stick cut into sixteenths
1/2 cup shredded cheddar cheese
2 T chopped fresh oregano
olive oil
2 cloves garlic, peeled and smashed
8 slices bread
Preheat oven to 450 degrees. Place tomato halves cut side up on a baking sheet. Sprinkle with salt, pepper and half of the oregano. Place 4 pieces of mozzarella on each half. Divide cheddar evenly among the four halves. Sprinkle with remaining oregano. Drizzle with olive oil and bake for 15 minutes.
Meanwhile, pour 2 tablespoons of olive oil into a skillet. Place garlic cloves in oil and heat pan over medium heat until the garlic is fragrant. Remove garlic and swirl oil to coat pan (I wipe with a paper towel.) Add bread slices in batches, re wiping with oiled paper towel between sides and batches) and toast until golden on both sides. Place one tomato half between two slices of bread and smoosh. Serve immediately.
Yield: 4 sandwiches.