I know a place that we can go to
A place where no one knows you
They won't know who we are
~ Let Me Take You There ~ Plain White T's
It's been awhile since I spread my wings ~or pimped myself out, if you prefer~ but I'm guest posting over at Frugal Foodie in WV today!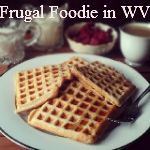 A little ditty about holiday traditions and being a proud mamma, with a recipe to boot!
Head over and give us both a little love....please...pretty please... with sprinkles on top...I'll give you a cookie! *grins*
If you are stopping here for the first time, do let me know in the comments, as I'd love to visit you back. This is a good place to start in these parts!