I stumbled across this article the other day and I was shocked when I realized that I could almost have written in myself.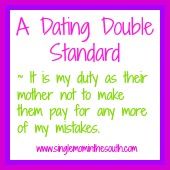 I've been pretty open here about my limited dating journey. As a single mom who has her children 95% of the time, there has never been much free time to date and the babysitting budget has always been slim. As such, when I spent the money on a sitter, I wanted to be sure I was doing something I was going to enjoy and that meant a night out with my girlfriends, NOT an awkward dinner or coffee with someone I didn't know that well.
When I did finally start dating in the Spring of 2011, I met the guy while my children were away with their father. When I realized it was something we both wanted to pursue, I was able to cash in on all of those "if you ever need anything" offers so that once a month or so, my children were completely out of the house when I made time for him. When it came time to introduce them, as I shared here, I agonized over it!
When that ended and I met someone new this past Spring, again I kept the children out of it as much as possible. It was different, because we met as friends first, but unless we were getting together in a big group, it was awhile before the children saw us together. As things progressed, it was natural for us to start getting together just ourselves and it was a little easier this time, because I knew I'd handled it without scars last time, but I was still cautious. Now, my children are attached. Even though if he sleeps over, he sleeps on the couch, even though they still think we are just friends, and even though it looks and feels like we are in this for the long haul, I'm scared because if it doesn't work it, my children WILL get hurt.
All this is to say that like the author of this article, I DO judge woman that I think move too fast. I try not to, but I can't help myself. I know that I made a gargantuan effort to keep things stable for my children and thus far, it seems I've succeeded. I know it's not easy. I know it means that many of my own wants, needs, and desires go unmet, but it's the sacrifice I'm willing to make for my children and maybe sometimes I think less of others that don't, especially if that woman shares custody with her ex and has time without her children. Why expose the children when you have time alone in which you can date, even if it is "only" every other weekend?
I also think there is a double standard for men. I was taken aback with the ease with which the two men I've dated seriously were willing to introduce me to their children... by what I perceived as their lack of caution.
As a teacher, I've seen directly the effect a "revolving door" of men has on children, especially young girls and I have one. I've seen that it lowers their self worth. I also value the sanctity of marriage, even though mine did not work out. Yes, I am an adult who is not currently waiting until I'm married, my children do not need to see that. For me, personally, being able to handle an adult relationship in my 30's after a failed marriage is different than when I was a girl of 16 or even 20. I'm better prepared for and able to handle the emotions that come with a physical relationship... I know the difference between love and lust. As such, while I don't expect that in this day and age my own daughter will wait until marriage ~heck, I already admitted I didn't~ I don't want her to make choices at 16 or 20 because she saw me do it at 30 and I want my son to know that woman are to be respected, because his mamma respected herself.
Yes, there is a double standard and yes, as a single mom, I help perpetuate it and yet, as cautious as I feel I've been, there are people who would still judge me and think I'm not careful enough. I didn't plan on being a single parent. I planned on raising my children with my husband, their father. That's not the hand I was dealt, but it isn't their fault and I feel like it is my duty as their mother not to make them pay for any more of my mistakes.