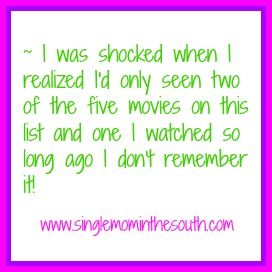 Cold Mountain I didn't even realize this was a southern movie!
Driving Miss Daisy I have seen it, but it's been so long that I don't remember it. I certainly didn't remember it as being a love story!
Forrest Gump Okay, I've seen two and I did love this one!
Gone With the Wind Nope. Haven't seen it. ~I know, I KNOW!
The Notebook Haven't read the book or seen the movie. Didn't even realize it took place in The South!
As I was surfing the net one recent weekend, I came across this blog post about emotional Southern movies. I thought I'd know some. I knew I wouldn't have seen all of them, as I still haven't watched Gone with the Wind, but y'all, I was shocked when I realized I had only seen two of the five movies on this list and one I watched so long ago I don't remember it!
Here's what would have been on my list:
Sweet Home Alabama Maybe not so emotional, but it had it's moments and it is definitely a romantic comedy AND one of my all time favorite movies!
The Blind Side Seriously... totally tugs at your heart strings from beginning to end. LOVE this movie!
Steel Magnolias Isn't this right up there with Gone With the Wind in the Southern Movie Bible?
How about y'all? Which ones have you seen? What's on your list? Which should I watch first?