Cupid threw up on my desk yesterday.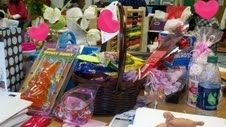 There should be text on this picture. I'm not sure where it went.
*****
Speaking of which, I wonder what it says about society that many of my parents will say they don't have the money to pay for field trips or buy school supplies, but send in a box of chocolate for each child in the class... Not the little paper Valentines of my youth, but ENTIRE BOXES OF CHOCOLATE! *Jumps off soapbox*
*****
I made my children a heart-shaped pizza for dinner. With basketball and gymnastics, there wasn't much time for festivities. I'm totally okay with that.
*****
I gave my own children two candy hearts. What do you think it says about MY parenting that when they came down in the morning and saw them sitting at THEIR chairs on Valentine's Day, they still weren't sure the candy was for them and then they weren't sure where it came from!