I came across a facebook post from an single mom acquaintance of mine. It read something like,
My son and I are fine but we will be off the radar for awhile.
My stomach sunk, because I can only imagine what must have happened for her to have to hide. After another mutual acquaintance, who saw the same post asked after her, I tried to get in touch with her via her work email and got an away message. I should call... I know I should call... but I don't want to be nosy or put her in danger by reaching out. Thus far, I have settled for an email message and another sent of facebook.
She is someone who I think, had I been more receptive, would have become a good friend. Her son is known in our mutual circle of acquaintances as being difficult to handle. Even she admits it and is doing all sorts of things to help him, but our boys get along really well. Her husband, though, always made me uncomfortable. He never did anything wrong or the least bit inappropriate, but he raised the hair on the back of my neck, so I kept my distance.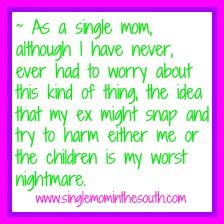 I know now that he has a substance abuse problem, which may explain a lot of her son's issues. That is why they split up. I know since the split, he has been through detox more than once. I know, according to her that he blamed all of his problems on her. I know he held up their divorce and I know it was recently finalized.
Now she has gone off the map.
As a single mom, although I have never ever had to worry about this kind of thing, the idea that my ex might snap and try to harm either me or the children is my worst nightmare. I am so scared for her, because knowing what I know, I can only assume that her ex husband is the cause.
ETA: Since starting to write this post, she has resurfaced. My suspicions were correct. Her ex husband was the reason she needed to lie low. She is now home and she and her son are out of danger for the time being, but
prayers for their continued safety are appreciated.