I tend to be a very modest person when it comes to nakedness. I never went away to college or really lived with anyone else outside of my immediate family, so I never really had the experience of having to change in front of others.
Then I had kids. It's hard to get dressed and ready in private when you are worried about what two toddlers will do to the house if they aren't locked in the room with you.
When I became a single mom and it got even harder, because I didn't even get privacy on weekends.
I vowed not to make a big deal of it...not to teach my children to be embarrassed by their bodies and nakedness.
We are certainly not nudists and I make an effort to be discreet. Privacy, when asked for, is respected and granted. I figured I'd take my cues from my children and when/if it the way I was doing things made them uncomfortable, I'd readjust.
I'd noticed that The Boy, who is now 10, had stopped barging in when I was in the bathroom or my bedroom door was closed. The Girl, however, at 8 and having the same parts as me, *grins* still marches in full steam ahead.
Such was the case the other morning. I'd gone into my room and left the door open a crack. Then I'd gotten in the shower and shut the bathroom door. When I came out of the master bathroom, The Girl was waiting for me to ask something unimportant, so I asked for privacy and she left.
However, she did not shut the door and I walked out into my bedroom to get my clothes just as The Boy came around the corner into the hallway. He got an unexpected and unavoidable view of his half-dressed, half naked Mamma.
His reaction: A full on, hands up in the air, head turned, duck complete with the "Oh, oh, aww!" to go with it. I'm kind of surprised he didn't scream "My eyes! My poor innocent eyes!" or something, such was the level of drama.
It was all I could do, not to snicker.
Then, a little later, he and his sister were helping themselves to leftover pizza for breakfast and she scolded him for taking the biggest piece.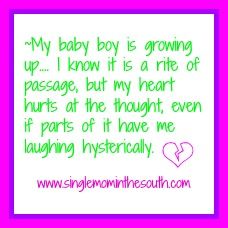 "But I like big ones!" he protested, immediately followed by a sheepishly muttered,"That didn't sound so good..."
It took every ounce of my being not to hit the floor laughing.
My baby boy is growing up. He is learning to be aware of things he wasn't before. I know it is a rite of passage, but my heart hurts a little at the thought, even if parts of it have me laughing hysterically.
Then he held my hand walking into Target and coming out of church all in the same weekend and I felt better.