As a self proclaimed pinterest addict, I have been making a concerted effort to actually make some of the recipes I pin. I've also been trying to have our family eat healthier in the form of Clean Eating. As such, we are supposed to be eating organic meat, which I really can't afford, so I've been cooking with less meat.
Thus, I found myself ready to make this for dinner the other night:
Y'all, for once I had actually planned ahead and bought the ingredients in advance. True to form, however, I waited so long to make it that some of the ingredients had already been thrown out.
This is not a new problem.
What I ended up with, once I subbed out the stuff I didn't have ~ like the parsley that had gone bad, and the dill I forgot to buy at all~ I ended up with this: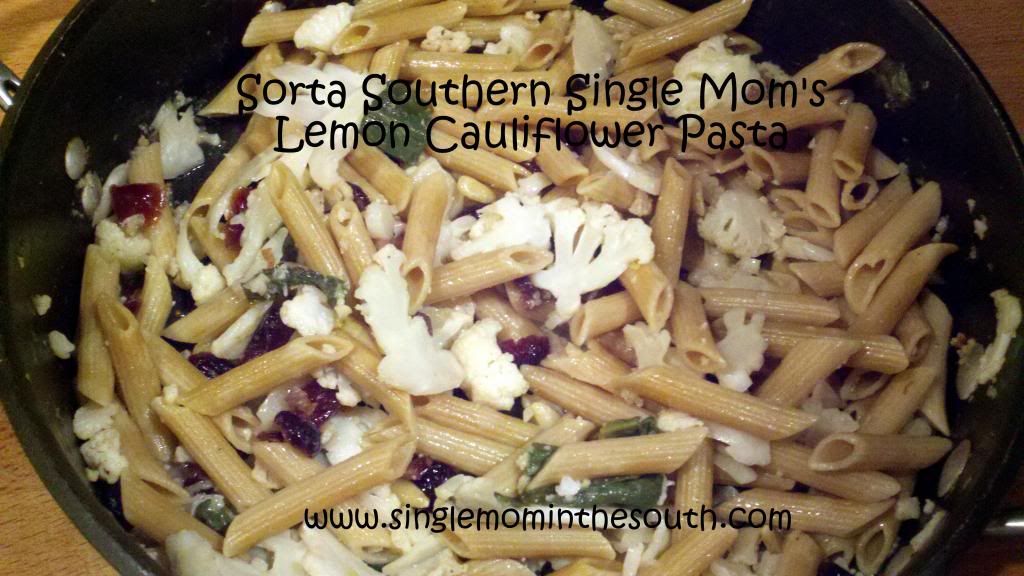 Sorta Southern Single Mom's Lemon Cauliflower Pasta
1/2 box whole wheat penne pasta
2 T avocado oil
1/2 head cauliflower
1 clove garlic, minced
3 T dried cranberries
pinch red pepper flakes
1 lemon
2 T shredded Parmesan cheese
1 cup spinach leaves
salt and pepper
2 T pignoli nuts, toasted
Cook pasta according to package directions in a large pot of salted water. Reserve 3/4 cup cooking liquid. Meanwhile, heat oil in a large skillet over medium heat. Grate the cauliflower on the coarse side of a box grater or using a mandolin. Add grated cauliflower, garlic, cranberries and red pepper flakes with a sprinkle of salt to the skillet and saute for 5 minutes until crisp-tender and lightly browned. Zest lemon, cut in half and juice. Turn heat to low and add the lemon juice and zest and Parmesan, stirring to coat. Layer spinach leaves on top of cauliflower and sprinkle with black pepper. When pasta is done, drain and add to skillet. Add 1/4-1/2 of the reserved cooking liquid. Stir until spinach wilts and let sit 5 minutes for water to absorb slightly. Sprinkle on pignoli nuts.
It was quite yummy! Even my kids ate this... well, most of it... they like the lemony pasta, not so much the cauliflower. We are working on it!