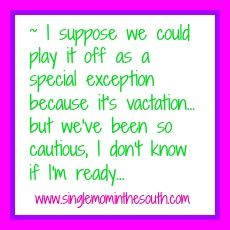 We are heading south in a few weeks for a visit with my parents; my children, Lawn Boy and me. Because of the timing of our trip, none of the rental places in my parent's park are available. Fortunately, my parents were able to arrange to sleep across the street at the place of one of their friends who will have already gone north for the season, so the four of us will have the place to ourselves at night.
Still, we have a little dilemma on our hands ... there are only two beds; well, actually one bed and a pull-out couch. I was discussing this with my children the other day and The Boy helpfully suggested,

"Well, The Girl and I can sleep on the couch. Can't Mr. Lawn Boy sleep in the bed with you???"
D'uh mom! ~ He seriously almost rolled his eyes at me, so obvious was the solution in his mind.
See.... they are watching and they know that while Lawn Boy is here an increasing number of nights each week, he ALWAYS sleeps on the couch or the futon upstairs.
"Wouldn't that be weird?" I asked, "Mamma doesn't usually have boys sleep in her bed."
The Boy shrugged, "Yeah, I guess..."
I suppose we could play it off as a special exception because it's vacation and there aren't enough beds, but we've been so cautious, I don't know if I'm ready to go there even if the idea makes sense to my children.
Maybe I am just a week bit unnerved by the idea of sleeping with a man... in MY PARENTS bed. EWWW! *grins*
I still have no idea where we'll all sleep, but it will work out.
Baby steps.
What do y'all think?