If you follow Single Mom in the South on facebook, then you may already know where this is going, because you were subjected to my random texts from the road.
For seven years, I have been the sole driver in the family. I am the one who has had to do all the driving for every trip, long or short. This is something I complained about.... a lot.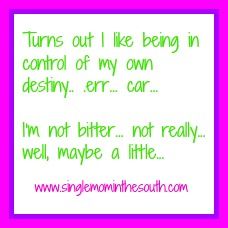 You can imagine that I was initially thrilled that Lawn Boy would be joining us on our Spring Break trip to my parents' snow bird home down further south, because it's at best, an 11-hour trip. Finally I would have someone to help with the driving!
Turns out I kind like being in control of my own destiny...err... car!
Turns out driving in the passenger seat has me curling up into a fetal position on occasion, because let's face it, I'm just not used to being that close to the guardrail. ~At least going south there are no mountainous cliffs on the other side of the guardrail down which I can imagine us sliding to our death!
I *may* have yelled out "Rumble strips!" several times, even though we *only* actually hit the rumble stripes once (each way!) ~I have a lot of driving flaws, but I DO NOT hit the rumble strips, ever! Just sayin'
I *may* also have inherited my mother's really annoying habit of grasping the handle of the door in desperation when I think the driver is doing something unsafe, like slamming on the breaks, because the drivers in front of us are slamming on theirs, because there is a cop on the other side of the 6-lane divided highway, facing the other directions.
I never was allowed to drive...not once the whole way... even though I was the one who knew where we were going and knew my way around town once we got there. Someone, despite being a very swervy driver, is a little bit of a control freak behind the wheel himself.
I am not bitter...not really...well, maybe a little bit... *winks*
Compromising on the driving. Who knew?