Way back when in the wee days of my "blogging career" I set up some sort of notifications via Google. I'm not even sure why, other than that I'm sure I read somewhere that I should. Once a week, I get a little round up email in my in box that summarizes what's on the web using the key words I've set up.
Last week, I came across a great article on what it's like to be a single mom. Check it out if you didn't already see the link on my facebook page.
I also stumbled across a Huffington Post article entitled 5 Ways to Win the Heart of a Single Mom.
Because I had not seen him in a few days due to parenting obligations on both of our parts...
Because I was missing him...
Because Saturday morning coffee is not nearly as enjoyable without flavored creamer and a warm body to curl up next to on the couch...
I thought I'd see how Lawn Boy measures up!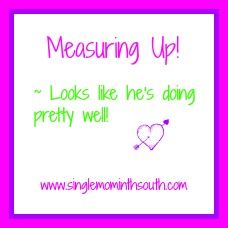 1. Plan a family date night ~
Done!
Once we introduced our children to each other, we tried to plan family things anytime we both had our children. It does help and it certainly increases the amount of time we get to spend together.
2. Find a babysitter ~
So-so
Be careful with this one. LB did try to do this one time, but he proposed getting his children's sitter on a weekend when his children wouldn't be there. I appreciated the thought. I really did, but my children didn't know this girl and I wasn't comfortable with leaving them with a stranger ~to them~ without his children there as a buffer.
3. Treat her to pamper time ~
Score!
Lawn Boy watches my children once a week so that I can go to yoga. He usually pays for the class too, because I always forget to get cash!
4. Support her parenting without stepping on her toes ~ More points to him
He's got this one down pat. He does not interfere and tries to follow my lead with my children. The one time he had an issue with something I did with mine, he spoke to me about it privately. He is open to my suggestions about his children, who are a little bit more of a challenge and has been really responsive the few times I've felt they were disrespectful and it needed to be addressed.
5. Know her kids come first ~
Another winner!
He gets this. Not that we've never had a spat about him wanting more of my time and me not being willing to give it in a certain circumstance (see #2) but he knows my children come first. It's one of the things he admires most about me.
Looks like he's doing pretty well! *grins*