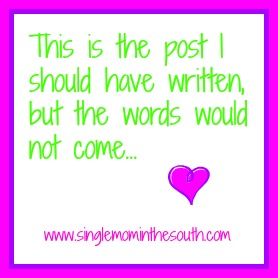 I've spent a few weeks complaining about the words not flowing and not having anything to blog about. Last week, as I had the kids draw and mail out cards to Daddy for his birthday and I got ready to leave for our trip down south to visit both of my parents, I realized there was a post I should have written.
March marked the one year anniversary of Daddy's heart attack. Last year for his birthday, I was rushing down to see him so I could see with my own eyes that he was okay. Even though he was and it ended up being a fun vacation without kids for me and even though my family found humor in the situation as we usually do, it hasn't been a free and clear road to recovery.
Still, my family is fortunate and blessed to have another birthday to spend with Daddy.
I am thrilled that when I hug him I am no longer smothered by the smell of cigarette smoke because he is still smoke free.
My heart is warmed when I watch my mom and Daddy walk hand in hand around the RV park exercising and talking with friends.
I am encouraged when he rags on his friends in the park, verbally poking and teasing like always, picking on my mother's family and then being gracious and humorous and putting up with them and enjoying their company when they arrive, because even though he is still struggling daily with anxiety, he hasn't given up and his personality hasn't changed.
We are so very lucky.
This is the post I should have written, but the words wouldn't come.
I'm glad they have.