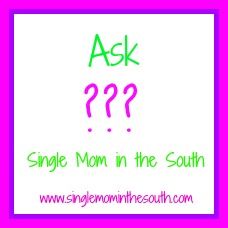 A semi-regular column that addresses your questions about single motherhood. Got a question about which you'd like my opinion? Ask in the comments or email me at singlemominthesouth@gmail.com.
*****
I was single for a long time... like totally single. If you've been with me for the duration, you know I really only started actively dating in the last two years. Actively being a relative term because really I've only dated two men in that time. Both had children. As you may have figured, Lawn Boy and I have gotten quite serious, being together for about a year and all, and at this point, we spend lots of time together will all of our children.
Y'all know I'm always saying how I've been in total control for all this time and it's hard to let go. I have a certain way I've always done things with my children and I've not really had to co-parent with their dad, so it's sort of always been my way or the highway. Let's just say that LB and his ex have a different way of parenting that I do. If you don't believe me, let me refresh your memory. *grins*
It begs the question:
How do you handle parenting each others children?
It's come up recently because his daughter has been testing limits, mostly with her parents, but apparently there was an incident involving her being disrespectful to her mother's significant other. This sparked LB's ex texting me and telling me I could "feel free to put her in her place." After a round of "What the ???" I gave the idea some thought.
Thus far, we just don't play that way. He handles his children and I handle mine.
That's not to say we each don't set boundaries for our homes and personal space that everyone has to follow. There are definitely more "rules" at my house than at his and I've been known more than once to say, "Kiddo, that just will not fly with Miss Leigh," or "You can keep asking, but Miss Leigh isn't going to change her answer."
For the most part, the children respond.
On the rare occasion that I felt something needed to be addressed, I went to LB privately and he handled it accordingly. He's done the same in return. So far it's working. Oh don't get me wrong, his children test my patience all the time and mine his.. they are kids, after all...but when it's something bigger... like disrespect or deliberately not following a rule... which has been, as I said, fairly rare, we let the parent handle it. I'm also not counting situations where someone is in immediate danger, which would need to be dealt with RIGHT THEN... fortunately, that hasn't happened yet.
I just feel that, more so for his children than mine, there has been a lot of change in the last 18 months. Mommy and daddy each have someone new in their lives. They just don't need more people correcting everything they do, especially if it's something mommy and daddy always allowed.
So there you have it.
How do you handle parenting each others children?
You don't. You let the actual parent handle it.