Last summer I told you about a friend who had let me down...repeatedly... and about how I thought I had reached my breaking point.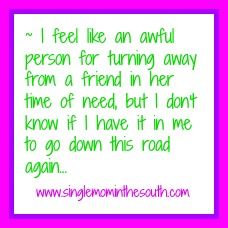 I had.
I backed off from the friendship. I could not get her via the phone, so I sent a heartfelt email explaining how I felt. The response I got began with, "I haven't read past the first paragraph, but..." and I honestly just deleted. I felt that if she didn't have time to read my complete thoughts, then I wasn't going to put anymore effort into things.
In the meantime, I'd started to reevaluate another friendship and and I began to feel that this was another one I might be better off without. I sound like an awful, selfish witch, even to myself, but I just felt like I didn't have anymore to give.
That said, I still kept in touch. There were periodic texts, usually initiated by her and I sent birthday wishes and a Christmas Card. Each time she indicated she wanted to resume the friendship and my response was always the same, "Let me know when you want to get together." I figured I was not willing to make the effort, but if she really meant it and was willing, I would certainly go along. She never followed through. ~ Big Shocker.
Our girls, however, were friends and were missing each other. The Girl was adamant that her daughter be included in the birthday festivities last week. For my part, I really felt that the children shouldn't be punished for the parent's issues, so I sent an invitation. She got in touch and accepted and again indicated that she missed me and wanted to "put the past behind us." I told her she was welcome to hang out the night of the party and then I forgot about it...
Until the day of the party, when I got a text...cancelling.
Some things never change.
She did still send her daughter. She had her mother drop her off. Her mother got my ear.
Apparently things have not gotten better for her. In fact they are worse. Things did not work out with the guy. ~ No surprise there.~
According to her mother, s
he hardly ever leaves the house, has not found a job, and is just getting bigger and bigger.
I'm at a loss. I feel like an awful person for turning away from a friend in her time of need, but I'm not sure I have it in me to go down this road again when nothing has changed.
What would you do in my shoes?