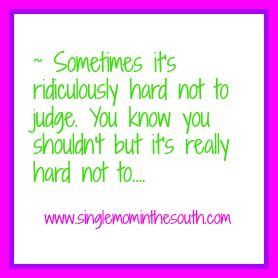 Sometimes, it is ridiculously hard not to judge. You know you shouldn't, but it's really hard not to.
When someone is hurting someone special to you...
It's really hard not to judge.
When in hurting that person, they are also making poor parenting decisions with great potential to hurt their children...
It's even harder.
When you generally try to err on the side of grace and class and that person is sitting across the table from you with a man who refuses to take his hat off in a restaurant....
And his child is allowed to play on an iPod at dinner in a restaurant when there are several other children with whom said child can interact...
And that person along with her companion have kept the children up so late the night before the big celebration for which they arranged, that half of them fall asleep in the car and the birthday child is mean to everyone in a way you have never seen said child act before...
And that person is practically sitting in the lap of the person sitting next to her in front of all the children in an effort to force everyone to see how happy she is...
And then that person yells at the waitress when she comes in to do the restaurant's personalized birthday greeting and makes her stop because she brought her own cake...
Well, sometimes you can't help yourself.
You judge and maybe laugh repeatedly at anything remotely funny the children say or do to break the tension...
Because you are human and even though you are judging, you are still hoping to pull off that grace and class thing.
Then you ask God for forgiveness and hope He grants it...
And then you throw the grace and class out the window and write all about it on your anonymous blog.
And pray for forgiveness again.