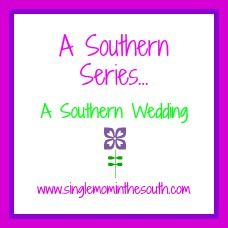 Y'all, I went to my first wedding since moving Below the Mason Dixon Line a few weeks back. It was... not quite what I expected. In talking to a few people, it doesn't sound like a traditional southern wedding... it sounds like maybe they were looking for a fancy northern wedding and missed the mark a tad. Of course, now I'm turning all y'all for opinions.
First, let me say it was lovely. I'm sure the bride, bless her heart, got what she wanted, which is how it should be, but it was not exactly "user friendly."
For starters, it was a full Catholic Nuptial Mass, which for me, growing up in a town that was 75% Catholic, was old hat, but I'm pretty sure most of the people in the church had no clue. For example everyone went up for Communion... EVERYONE. In the Catholic Church, that's a huge No No!
I mentioned in a previous post that the invitation said "Black Tie Optional" but that's kind of hard to swing when the service starts at 4:30 on a Friday. Most people didn't even make it to the service. At the reception, which immediately followed, most of the men managed suits, but the women were largely under-dressed. I was in a black cocktail dress that I'd worn as a bridesmaid in my sister's wedding and I was close to being overdressed. There were ladies there in cotton sundresses, a maxi dress from Target, and white cotton pants. Oh, and
LAWD 'A Mercy!
the bride's mother was in head-to-toe white!
There was a cocktail hour with beer, wine, and soda when we first arrived at the reception venue. After an hour, we were ushered into the hall, which was gorgeous but really large for the number of guests, so we were really spread out. There was a HUGE dance floor in the middle. They also didn't assign seats and LB and I didn't know anyone, but fortunately had "made friends" with a few members of the groom's family and were able to sit with them.
The bridal party was announced and the happy couple had their first dance and family dances. Then they called everyone up for the buffet and had piano music playing. The beer and wine table closed down, but there was sweet tea and water on the table. Following dinner there were champagne toasts and then the family moved through the room to greet guest.
Five hours later, not one person had danced. ~Did I mention the HUGE dance floor?~ It looked like perhaps they were going to open the beer and wine table and get things started, but by that time, LB looked at me, I looked at him and we made a gracious exit. FIVE HOURS! Y'all, I've never been to a wedding where guests were made to wait more than five hours to dance!
So my bloggy friends... faux pas? Bad form? Or welcome to the south, this is how we do it in these here parts?