My sister Evie, her husband Jack, and Sweet Baby B traveled up to The Great White North this past weekend for Father's Day. This was Baby B's big reveal, as most of the family had not yet met her. On Father's Day, my parents hosted their annual barbeque with ~mostly~ my mother's family. Being one of six children, that's a lot of people. This also marked my grandfather's first Father's Day without my Grammy.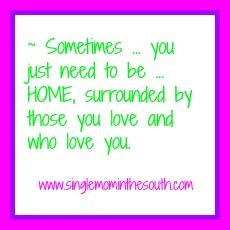 My sister sent me the sweetest most wonderful picture of our grandfather and Baby B. She is gazing up at him and he looking down at her ~ and I so wish I could share it with you, but if I blocked out their faces, it would lose it's meaning~ and I was instantly missing my family.
You see, I was sitting on the couch, inside, with LB's family. His grandmother was ill and his mother was stressed and he doesn't have any outdoor furniture, so I sat there ALL.DAY.LONG watching golf. Don't get my wrong, they are lovely people, but this is just not how I am used to doing family gatherings.
I knew~ and the picture was proof~ that my family was all gathered in my parents' backyard. The children were either in the pool or playing some form of ball. Everyone was sitting around talking and laughing.
I wanted to be there.... celebrating with my family. I haven't seen them since my grandmother's funeral in January and I am missing them.
Sometimes, despite your claims that you are where you belong and you don't ever want to go back, you just need to be... HOME, surrounded by those you love and who love you.