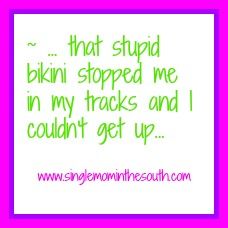 I sat in the chair.
Paralyzed.
I could not... or would not... move.
We were at the pool and the sister of someone about whom I'm very sensitive joined us with her children. She started to settle into the beach chair in front of me and I realized she, a few years older than me and also a single mother, was wearing a bikini. She kept herself guarded from view by the chair and only turned to talk one time once she was settled, so I could not see how well she wore it, but she still had it on.
Mine sat at home in the drawer. Instead, I sat behind her in my Land's End "Mom Suit" and I could not get out of the chair. Despite that fact that I'd just been in the pool in front of everyone else not ten minutes before.
Maybe if she'd been in a "Mom Suit" too I would have been okay, but that stupid bikini stopped me in my tracks and I could not get up.
For fear that she would judge me and even worse, call her sister, so they could judge me together.
I would if it was me.
Instead of cooling off and joining the fun in the water with the children, I sat there and got sunburned and overheated... I wouldn't even get up to refill my water bottle... until I pulled on my cover up and retreated to the car to cool off, grumpy and defeated.
Will I ever be comfortable in my own skin?

1.) Describe a time you made things...awkward.