Some years I am sad to say goodbye to my class.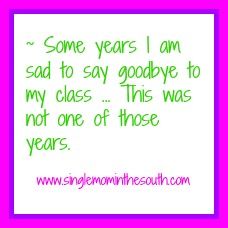 Because they are sweet and eager to learn and they think the sun rises and sets in me.
Because we've bonded and made special memories and I am sorry to see them go.
This was not one of those years.
This was a long year in which my class never really bonded and gelled.
They argued, they bickered, they talked and no theory, chart, nor book I read provided a successful solution.
Don't get me wrong, I had a handful of really sweet kids whom I will miss.
And another handful who were really~ and I mean really~ bright. The kind that are a challenge to teach, but in a good way.
And one in particular, who was an absolute pill to teach, but whom I truly enjoyed as a person and would have taken home with me in a flash.
But these children were not the leaders in my class.
The leaders were the tough kids, the ones that walk by a desk and drop a sly comment to the kid they know will be set off.
The ones that push and push looking for you to give them an opening so they can scream and yell, either at you or just at the class at large.
The kind that refuse to work quietly or join the rest of the class in line just so they can get everyone in trouble.
And the good kids were just not strong enough to carry the rest of the class.
This year, I could not get them out of the classroom fast enough.
And I am cleaning and organizing and getting the room ready with a verve and vigor I haven't had in awhile.
Because I am ready for a new class...
a change...
a fresh start in August.
And praying for a MUCH better year!