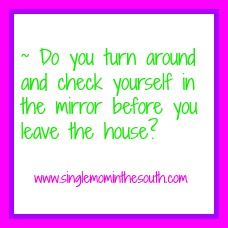 I've heard it said that one of the almost surefire ways to tell real from fake is that girls with real boobs have back fat and girls with implants generally don't.... of course, there are exceptions to every rule, but it does tend to hold true if you know enough people to do a little research ~ and I do.
My mother's best friend, very well endowed and cursed with what she feels is more than her fair share of back fat, shared this life lesson with me sometime in high school and I've been very scientifically gathering data ever since.
As such, I'm conscious of the way my bra fits. My girls are pretty small and for whatever reason, I've always taken care to "showcase" them in the best light. I mean, from a fashion perspective, an ill-fitting bra can ruin a look... make your girls look like torpedoes... or droopy when they're not... or that line that women get when their cups overfloweth... or the ridge that appears when they are in a padded push up and their cups underfloweth.
When I put my bra on, I actually pick my girls up and pull them into the cup... no simply strapping my bra over the top like I did when they were pre-kid and perky~ this very important lesson was taught to me by A MAN who seriously and totally professionally gave me the best bra-fitting I've ever had...when I was 8 months pregnant! Heck, by making sure the whole enchilada is in the cup I went up a size... to a B, so you can see why for me this is important. When I wear a snug shirt, I turn around and do a quick glance to make sure the band is in the right spot and nothing is squeezing out where it shouldn't be.
I was people watching in a friend's church the other day ~ and silently judging... I know, I know, but it's one of the demons I can't seem to squelch... I'm working on it~ and an attractive, thin woman slid into a seat a few rows ahead. Bless her heart, I could see her bra didn't fit. She hadn't turned in the mirror before she left ~ tsk tsk. The back of her bra was pulled way too low ~ Tighten those straps, Mama!~ and she was quite thin, but the band was so tight that she had this whole roll of what was probably skin, but looked very much like back fat, sticking out from underneath the band.
Then she turned to look at the person next to her and with great embarrassment, I realized I knew her! *shock*
This means I knew she was someone who greatly, almost too much so ~Hello pot, I'm kettle, you're black... realizing that me saying someone else is too obsessed with their appearance is every so slightly hypocritical~ and that she had once again, just slightly missed the mark. I would gladly share these tidbits with her over a glass of wine, which is the only way I'd have the "courage" to do so, but she doesn't drink, so she will just have to continue back-fatting her way around town in her ill-fitting bra!

3.) Write a post inspired by the word: bra