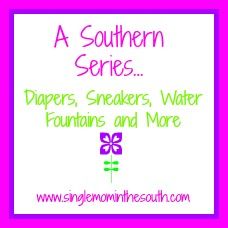 My lovely readers, you never let me down. Your comments on my Coke, Barbecue, and Buggies post were so fabulous, they were worthy of a post of their own!
Without further ado, I ask you...
1. What do you call the things you put on your un-potty-trained baby to contain his/her... ummm... waste?
~ I always called them diapers, but a commenter suggested that here in The South, they are often called Pampers, kind of like soda is called Coke. I couldn't say yay or nay, because my children were out of diapers by the time we moved Below the Mason Dixon Line and most people I know are cloth diapering, so they refer to them as either "cloth" or "disposable!"
2. What do you wear on your feet when you are going out for a run, to the gym, or to do anything athletic?
~Sneakers. Most people in these parts call them tennis shoes, but I don't regularly play tennis, and if I did, I'd wear my SNEAKERS!
3. When you are out in public without our water bottle, what do you call the thing from which you drink ~If you dare?
~ A Water fountain. LB, who hails from New England, calls it a bubbler. I've only ever heard that in NE. In fact, when he made mention of it at the pool recently, I played dumb so I could give him a hard time, even though I knew what he meant. Of course, he doesn't actually say "bubb-ler," it sounds more like "bubb-la!"
4. What do you call the thing you sit on in your living room... the one that usually seats about three people?
I usually call it a couch, but will sometimes use the term sofa.
5. What do you say when a VW Beetle drive by and you turn to the person next to you and slam your balled-up fist into their shoulder?
We've always called out "Punch Buggie (insert color)," but another commenter suggested that her family called them "Slug Bugs!" That's one I never heard of!
In the comments, share you answers and where you are from!