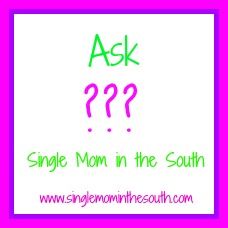 A semi-regular column that addresses your questions about single motherhood. Got a question about which you'd like my opinion? Ask in the comments or email me at singlemominthesouth@gmail.com.
Do single moms (indirectly) choose to be single?
I came across this YAHOO! Answers headline in one of my Google Alerts recently and I'll admit, my blood pressure rose before I even clicked on the link. It didn't settle much when I did click and read. In the proposed theory, the author cites several reasons to support this belief, among them, that women predominately choose their spouse because they choose their husband by saying "yes" or "no" to the proposal and in making a poor choice, they are choosing to be single. The author also states that statistically more women file for divorce than men, so therefore, a woman who files for divorce must be choosing to be single.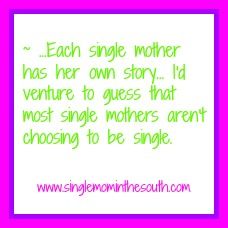 As in most cases in life, each single mother has her own story. Some are vastly different and some are eerily similar. I'm sure there are women who would answer yes, but my answer is emphatically "NO!" I did NOT choose to be single. Most of the single mothers I know would answer in kind. I'd also caution the author against using too many statistics. You see, I am the one who filed for divorce, so I guess technically, by this author's definition, I chose to be single.
BUT
At the time I filed for divorce, my ex had left me in our home with two children under the age of three. While I did have a career I would eventually go back to, at the time, my ex's income was the only money our family had coming in. I needed to ensure the bills were paid, so I filed for divorce. I did so because with a little research I found that in the state in which we lived, my filing would freeze our assets. Until we went to court, my ex could not change his direct deposit from our joint account. While I could continue to pay the bills we had always paid as a household, he could not take any money our for new expenses without my permission. I filed to protect my family and buy myself some time, but I still hoped we'd reconcile.
I suppose, being that I have stayed single for going on 7 years that a case could be made for idea that I am choosing to be single now. I am not. I have just tried to be careful, because I didn't know when I married the first time it would end this way and I want to take care to try to make sure it doesn't happen again. My ex and I married after a 6 year courtship. It was not something I entered into lightly and without thought. Still, it didn't work out. Now, I make a choice not just for me, but for my children. I do wish I was not STILL single, but I'm not going to rush into something so that I'm not alone only to have it fall apart and drag my children down with me.
I'd venture to guess that most single mothers aren't choosing to be single. On the outside, we might think they are making poor choices and setting themselves up to end up single, but that doesn't mean they realize it!