I noticed recently via facebook ~Oh how I dislike this new feature that allows you to see things your friends have commented on, even if the original poster is not a friend of yours!~ that someone to whom I used to be very close has remarried.
I'm not taking it very well.
I'm jealous....
Flat out, uncomfortably, totally green.
It doesn't look or feel very good on me.
I've watched countless friends move on over the years, most of whom got divorced after me and have already remarried ~and some divorced again~ and sometimes I lose sight of my intentions and how much my children are thriving and why I've done things in this manner and at this speed because I feel like everyone else is leaving me behind.
All alone.
This one, is particularly hard, because it comes with emotional baggage.
.
Just a little over a year ago, I held this person's hand as her husband left, came back, left again, and she began the process of legal separation. She was in a really bad way and I tried my best to be a good friend, but my best was never good enough. She became so mentally unstable that I had to cut ties and it's hard to believe she has healed enough to truly be in a healthy relationship, although if this man does provide some stability, that's good for her children.
It's tough to keep that in mind because she was really, Really, REALLY ugly to me and I'm finding it difficult to be a good Christian and wish her well. Part of me feels like it should be MY turn. I should get to go first, because I've been single longer and I've been dating Lawn Boy longer.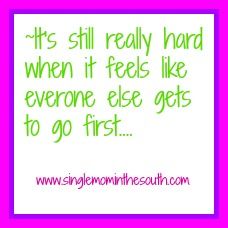 That said, Lawn Boy and I do have a plan.
It's one I'm comfortable with.
There is no hurry. We are both financially stable, so we don't need to combine households to stay afloat. We have two separate sets of children with visitation schedules and emotional needs that have to be accounted for. We have two homes, neither of which is big enough for our combined crew, that need to be sold and a new one found. I know where we are headed and our timeline and caution makes sense for us.
It's still really hard, when it feels like everyone else gets to go first.