I've told y'all more than once that my friends are important to me; how as a single mom they have been both a physical and emotional support system without which I couldn't survive.
They can be invaluable and more trouble than they are worth in one fell swoop.
My best friend lives in our hometown up north and sometimes I swear the reason we are best friends is less because we've known each other since Kindergarten and more because we live 600 miles from each other!
Below the Mason Dixon Line, I have a lot of acquaintances, but just a few close friends. This surprises people because I tend to seem pretty open and share what seems like intimate or heartfelt things, ~ Want to know about my divorce? Pull up a chair! ~ but very few people are allowed all the way in. Some may think they are, but in reality, they don't get those innermost parts of me. It's not them I call when I need an ear.
Sometimes I wish I had more close friends and sometimes I feel like I can hardly handle the ones I have. I've told you about my woes before, here and here and here. The collective total of which illustrates how my own flaws allow me to get sucked in for a time before sanity prevails and I step back and go, "Enough of this!"
I read a blog post the other day in which, Kat, the author seemed to plant a seed in my mind about the complexity of female friendships, because over a recent weekend, I spent some time with one of my closest friends down here, listening to her outline yet another issue with yet another friend. I won't lie, I kind of wanted to bang my head against the wall, because she had this same problem in her old neighborhood... a friendship triangle, from which she always feels like the excluded point. I listened to how she thinks it's childish and ridiculous that these women are like this while not at all realizing that this is a pattern for her and she plays are part in it as well.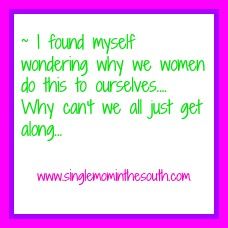 I found myself wondering why we women do this to ourselves. Certainly, we don't have to like everyone, but why can't we all just get along. Why does it have to be a competition?!? Why does there have to be so much drama?
This led me to remembering how in late high school and college, when I was in what at the time seemed a solid, long-term relationship with my now ex, I preferred to hang out with the guys. There was less drama. They accepted me for who I was, enjoyed my company when I was there, and didn't fret when I wasn't... so much easier.
With things getting more and more serious with Lawn Boy,
I find myself circling my wagons again... doing a little culling of whom I want to spend my time with. In recent months, my circle has gotten smaller again, because I don't need as much support anymore, so I don't have to accept the drama that comes with it. I can spend my time with people, both friends and acquaintances who I enjoy and don't have to partake in the pettiness. This is not to say I won't be there for a friend in crisis... but a real crisis... not the imagined drama reminiscent of middle school.
Maybe that is my bad. Maybe in a way it's a little sad... this need I have to stay the heck out of it. Maybe it keeps me from forming those deep bonds with people and keeps things too superficial, but I sort of feel like I have enough drama of my own and I just don't want to get wrapped up in all this other crap.