I meant to get this up last week, but the week got away from me. I can't really complain, as we spent three days in a row at different pools with different friends, so it was time well spent, but it didn't leave much time for blogging.
One such foray to the pool brought some interesting conversation from the back seat.
"My dad has a lot of money. He's not rich, but he had more money than most."
"Did you hear that two football players got arrested. One I don't know why, but the other one for illegally punching a guy in the face outside a restaurant!" ~ The "illegally" got me, because sometimes you can legally punch someone in the face???
My aunt sent me this birthday card last month. I used to be an avid scrapbooker, but am currently 4 years behind, regardless, I laughed so hard when I opened this I almost cried.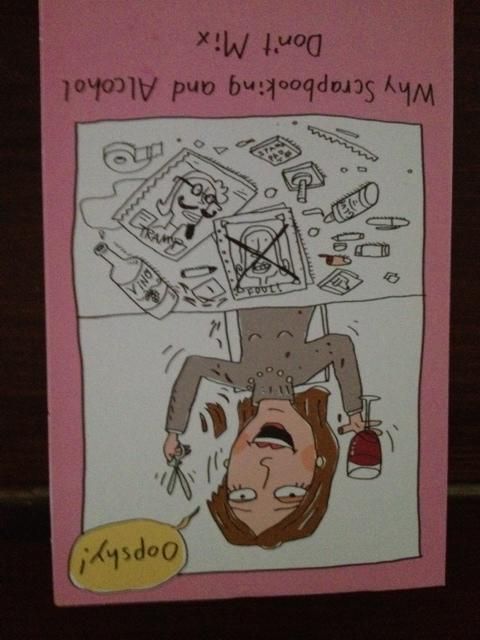 *****
Did you know that you can negotiate with a car dealer for service?
I did NOT know this. I had something really major go wrong on my car this week. I was blessed to get hooked up with a friend of my sister's who had just opened his own business. I didn't think he was doing service anymore or I would have gone to him to being with. His wife gave me a price point that he'd do it for and I was able to use that to get the dealer down in price, because I'd already had my car towed to the dealer. It was seriously more stressful than buying the car! I'm also appalled at how overinflated the initial price quote from the dealer was... as in thousands of dollars. My sister's friend said it's common and they count on people NOT knowing they can negotiate!
Now my mother will start a writing campagin to the auto maker, because this is a problem that had cropped up repeatedly on my year, make, and model in the year and a half since I bought the car. I have a feeling there will be a recall in the near future!
On a happier note, did y'all do anything fun for 4th of July yesterday? We joined friends for a "cookout." I got all "creative" and brought this watermelon appetizer along with Crab Rangoon dip to which I did this.