My mom has plenty of guilt about her parenting. Truth be told, I had a pretty good upbringing but there are still some things she feels guilty about: working during my first year, her emotional state when I was little, the way she handled my body image issues, my preteen years.
There is one thing she never had to feel guilt over: My Tongue...
Until Now.
I was out to lunch with Lawn Boy last week and my phone lit up with simultaneous texts from my mother and sister.
Evie's read something like,
"Mom feels guilty. We watched a video on tongue tie and she says it fit you to a T."
Then from my mom,
"Oh my goodness. Evie showed me a video on tongue tie and it was so you as an infant. I'm so sorry. I feel so guilty. I didn't know."
I mean seriously? You just can't make this stuff up.
A little back story: Evie continues to struggle with Sweet Baby B's food sensitivity and feeding issues. She was initially diagnosed in the hospital with a high-arch pallette, but in recent months, has also been diagnosed with tongue tie. Since it was missed in those early weeks when correction would have been far less painful, Evie and Jack were trying to avoid clipping it until she was a little older, but she stopped gaining weight, so something had to be done. In what we all agree is a wise move, Evie waited until she and B went up north to visit my mom and had it done there. We love her husband Jack, but we all, even him, agreed that he was too tender-hearted to be there to support Evie, so my mom was better equipped for the job.
I told Evie when all this started that I was pretty sure I had tongue tie. A few years ago, before moving Below the Mason Dixon Line, a neighbor's 8-year-old was diagnosed with it. It was the first I heard of it. He couldn't stick out his tongue, he'd had some speech issues when he was younger and his doctor told his parents that it might cause him issues when it came to kissing down the road. As she was explaining all this, I thought, "Well I can't really stick out my tongue either," so I demonstrated for her and she indicated that okay, mine didn't go out very far, but her son's was far worse... in fact, when he tried to stick his tongue out, he actually got a line down the middle where the connected skin underneath pulled.
I figured she knew what she was talking about. As far as I knew, I had no issues breastfeeding and gaining weight as an infant, I was always VERY verbal and never had any speech issues and no one had ever...ummm...lodged a complaint about my ability to kiss, so I figured it was no big deal. I brought it up to Evie as a way of reassuring her when B was diagnosed. She shared it with my mother. ~ or maybe that was me?
Now my mother is guilt ridden, even though I made it to 37 without any real complications from this particular affliction.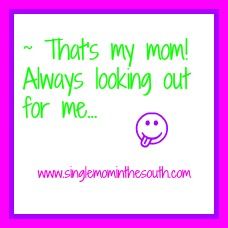 Not to worry, she is on the case. After a few texts about poor B being understandably upset after the procedure and them all being a mess, she sent one final text,
"I told the doctor about you and he said you may want to consult an oral surgeon and have yours looked at because it can cause headaches and neck pain."
That's my mom. Always looking out for me. *SMH*
I guess you and your child are never too old for a good, old-fashioned dose of Mom Guilt!
Lawn Boy told my mother ~ yes, my MOTHER!!!~ that this is a definite deal breaker and I need to get this business fixed!
Have I mentioned my neck hurts? *winks*