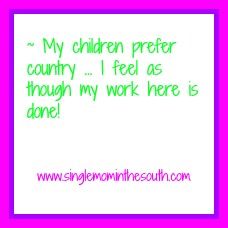 We were in the car heading back from the airport recently. ~ I know, every post lately seems to start that way, but it was a LONG day and a lot of time in the car.~ I was driving and flipping through the stations, trying to find something to listen to in a strange city late at night. The kids were contently watching a movie in the back seat.
Or so I thought....
Then this came on
and the boy said, "What the heck is this song?"
I indicated it was a "hip hop remix" of this song.
"Well that's just stupid!" the girl said.
I didn't even scold her for her word choice, because I totally agreed.
My children prefer country.
The only thing better than that is when they can sing along to "Livin' on a Prayer" and "Don't Stop Believin'" with me!
I feel as though my work here is done.*
*Except for the word choice. We are working on that!