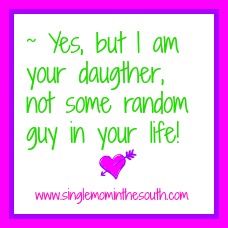 "You and Mr. Lawn Boy shouldn't kiss!" exclaimed The Girl Child this weekend, "It's inappropriate!"
For the record, we rarely kiss in front of my children, although we have worked our way up to an occasional peck hello or goodbye.
"I kiss you all the time." I replied.
"Yes, but I'm your daughter, not some random guy in your life!"
A year and a half and he's just some 'random guy.' I about fell out laughing. Where does this child get this stuff!?!
Later on in the weekend, with The Girl safely upstairs and out of earshot, we found ourselves stealing a moment in the kitchen.
"I heard that!" bellowed The Boy Child.
BUSTED!
"Heard what?" I inquired laughing.
"That the Cowboys were letting a lot go by," he replied nonchalantly.
Saved by football!
Phew!
The joys of dating with children...