My ex husband came into town recently for business and asked to see the children for the evening. Five years ago, he told me he was switching jobs to a company that would require him to travel to and from our area frequently in the hopes that he would be able to see the children more often, but this recent visit marked only the second time in those five years that he has done so.
He surprised them by coming to school to get them..for the first time ever... and then took them to their activities for the evening. He had a business dinner, so I met him at The Boy's practice so he could leave to get to it.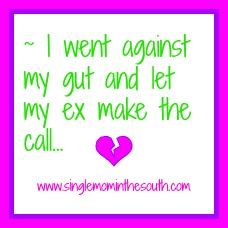 When he went to leave, The Boy was still in the middle of practice. I had emailed the coach earlier in the day to let him know about our special occasion, so I offered to go get him off the field to say goodbye, because I knew it would be okay. My ex didn't want to interrupt him. I imagine he was thinking of himself as an eleven-year-old boy and how much he would have hated to be singled out like that.... he indicated that The Boy had been hesitant to hug him before he went on the field.
I found myself in the uncomfortable situation of knowing in my gut that my son, with whom I spend every day, would want to say goodbye, but not wanting to interfere with what little chance my ex has to make parenting decisions for our children. The children were thrilled and he and I had had positive communication and interaction surrounding the visit. I didn't want to ruin that and have him perceive me as trying to control the situation ... "like I always do."
I went against my gut and let my ex make the call.
My son cried himself to sleep that night.
I wanted to knock myself upside the head.
I hate upsetting my children like this, especially The Boy, who is quiet and sweet and reserved with his affection.
Fortunately, when I texted my ex to tell him The Boy had been "bummed," he didn't take it as a criticism and we made arrangements for The Boy to call the next morning on the way to school which seemed to heal his heart.
But there are few things worse than having your child cry himself to sleep over something you could have prevented.
*SIGH*