Once Upon a Time, t
here was a young girl, strolling through Target with her husband, looking for something from which to hang the Christmas Stockings on the mantel of her new home.
They encountered 3 sets of stocking hangers; Love, for a family of four, which they were, having added their second child is as many years to the pack earlier that year; Joy with book-ending Christmas trees for a family of five; and Peace, with book-ending doves for a family of seven. Thinking herself clever, she conned her husband into the Joy set, telling him that the extra was for the cat, even though she fully intended to convince him that they should have that third child he really didn't want.
By the next Christmas, her family had pared itself down to three, her husband having left a few months before. She still put out the whole set and would continue to do so in years to come, because those book-ending trees lit up and really were pretty. Each year as she put them out, she would remember where she was when she bought them and where she was now. Although it didn't dampen the Christmas Spirit, nor change her feeling that she was truly in a much better place, there was always a moment of sorrow...loss, if you will... for the dreams of that young mother.
This year, like all those past, the set was again put out and the stockings were hung.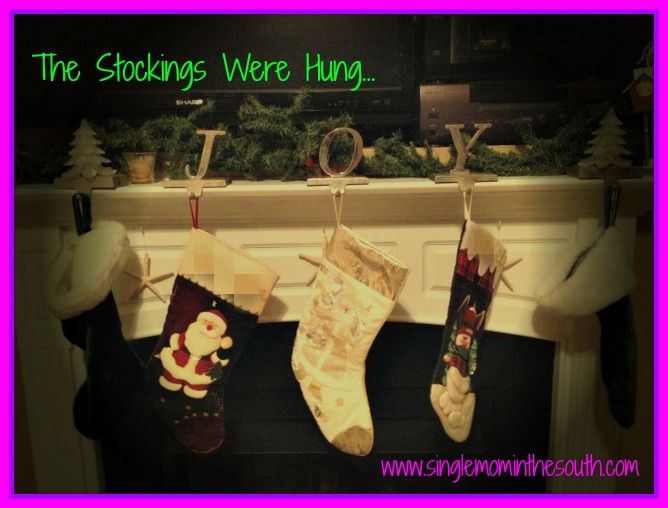 But this year, all of the hangers were taken and two more stockings had to be set on the floor. The stockings didn't match and were a little piecemeal, but they represented new beginnings.
The blending of a new family with traditions new and old.
Not quite how she imagined her family of five, that girl.
It doesn't matter, thought, because she wouldn't change it for the world. ~ Although she may have already ordered new, matching stockings for years to come!